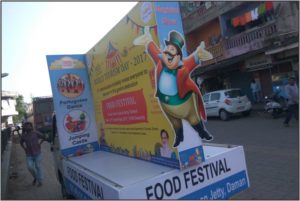 We provide mobile van advertising in Vapi, Daman & Silvassa. Mobile van advertising comprises advertising of your product or brand on a moving vehicle using high-end technology LED display screen, banners and various other formats. A mobile van roaming across the city or through the target areas fosters curiosity among the watchers. It also helps brands build a more extensive local outreach, and create regional awareness.
Mobile van advertising can help your brand:
Delivers a long lasting, visual impression of your Company
Cost effective in comparison to other media
Covers large number of audiences efficiently
target the local areas and markets as per your wish
develop brand awareness among targeted audience
Convince your audience to follow and purchase in accordance.
Tableaux Making:
We also provide custom tableaux making service based upon customer requirements. Tableau can be used to showcase any govt scheme, awareness programme, social welfare etc. We make tableaux through various elements like thermacol, banner, cut-outs, painting etc. to make tableau looks attractive and to deliver the message in right manner.
Our Services
Start working with an company that can provide everything you need to generate awareness through advertising, connect with customers through branding, and increase sales.